Internal Recruiter Hiring Guide
The Scale Series |  Part 2
How to Scale Your Recruitment Team
Betts Connect Recruiting Platform
At Betts, we've helped 35 companies reach unicorn status and 3200 more go from Seed to Series A by amplifying their talent acquisition processes and ensuring they recruited the best-fit candidates. We get questions all the time about how to best scale an organization to meet growth objectives, as well as to ensure ROI when it comes to recruiting for sales, marketing, and technical positions. In Part 1 of this guide, we cataloged the startup lifecycle at every stage of funding – in Part 2 we will explore the keys to success found among our customers and demonstrate how these examples were achieved by building their scalable, efficient, and cost-effective talent acquisition teams.
After reviewing the journeys of over 500 of our clients within the last 2 years and extracting the data, we put together an interactive talent matrix. This matrix details how many recruiters your organization should expect to have based on the number of hires you need to make on an annual basis to continue scaling upwards. We have also included real-world cost-saving calculations based on our clients who were able to consolidate their searches through our Betts Connect platform.
We've looked at the companies we've worked with that use our Connect recruiting platform versus hiring websites such as LinkedIn for their talent acquisition. On average what we've found is that Connect increases the productivity of internal recruiters by up to 100%. What this means is that with Betts Connect, you can achieve better scalability in hiring and match the number of recruiters engaged with the number of roles you need to fill much more cost-effectively. If you only need to make a few hires, you won't need to bring on a recruiter — if you need to make hundreds of hires, you can still have an organization that's 30-40% smaller.
What makes the Connect recruiting platform more efficient is that it provides warm, active, and engaged pre-vetted introductions versus using cold outreach to candidates on LinkedIn, etc. You gain the advantages of automation while still being able to leverage a human touch for your sales, marketing, and technical recruitment. We have millions of people in our network and are able to share active candidates on-demand, with thousands of inactive candidates reactivated weekly.
To view the interactive matrix, please view on a larger screen.
*Assumptions:
Assumed $125k recruiter comp. Assumed recruiter hiring average of 20 candidates/year through LinkedIn. Does not include % of inbound applications as every organization is completely different here.
| | | | | | | | | |
| --- | --- | --- | --- | --- | --- | --- | --- | --- |
| 0 | 0 | 1 | 1 | 1 | 1 | 3 | 5 | 13 |
| 0 | 0 | 1 | 1 | 1 | 2 | 3 | 6 | 13 |
| 1 | 1 | 1 | 1 | 1 | 2 | 3 | 6 | 13 |
| 1 | 1 | 1 | 1 | 2 | 2 | 3 | 6 | 13 |
| 1 | 1 | 1 | 2 | 2 | 2 | 4 | 6 | 14 |
| 1 | 2 | 2 | 2 | 2 | 2 | 4 | 6 | 14 |
| 3 | 3 | 3 | 3 | 4 | 4 | 5 | 8 | 15 |
| 5 | 6 | 6 | 6 | 6 | 6 | 8 | 10 | 18 |
| 13 | 13 | 13 | 13 | 14 | 14 | 15 | 18 | 25 |
Leadership, Marketing, & Technical Hires Per Year
Recruiter Savings using Connect
SDR, AE, CSM Hires
Per Year
| | |
| --- | --- |
| 0 | $0 |
| 0 | $0 |
| -1 | $125,000 |
| -1 | $125,000 |
| -1 | $125,000 |
| -1 | $125,000 |
| -2 | $250,000 |
| -3 | $375,000 |
| -8 | $1,000,000 |
Look at the amount of SDR, AE, CSM, ENT hires you expect, and the amount of leadership, marketing and technical hires needed to triangulate how many estimated recruiters you would need if you were using a job board-type recruitment platform like LinkedIn, and the savings you'd see by using Betts Connect.*
The Recruiter Hiring Matrix
As the matrix illustrates, continuing to scale up your recruiting team becomes resource-demanding the more you need to match growth with headcount until you arrive at the level where you need an army of internal recruiters just to go through potential candidates for sales, marketing, technical and leadership positions across all teams. Automation helps, but job board websites and the more rudimentary recruiting platforms, like LinkedIn, still leave a lot of manual work and typically lack visibility into the candidate pool.

What we've found working with clients who've gone through these stages is that efficiency is the key to scalability – being able to find the right hire at the right time makes all the difference. While this sounds like a matter of luck, many of our customers have leveraged Betts Connect to do just that and generate real ROI from recruitment.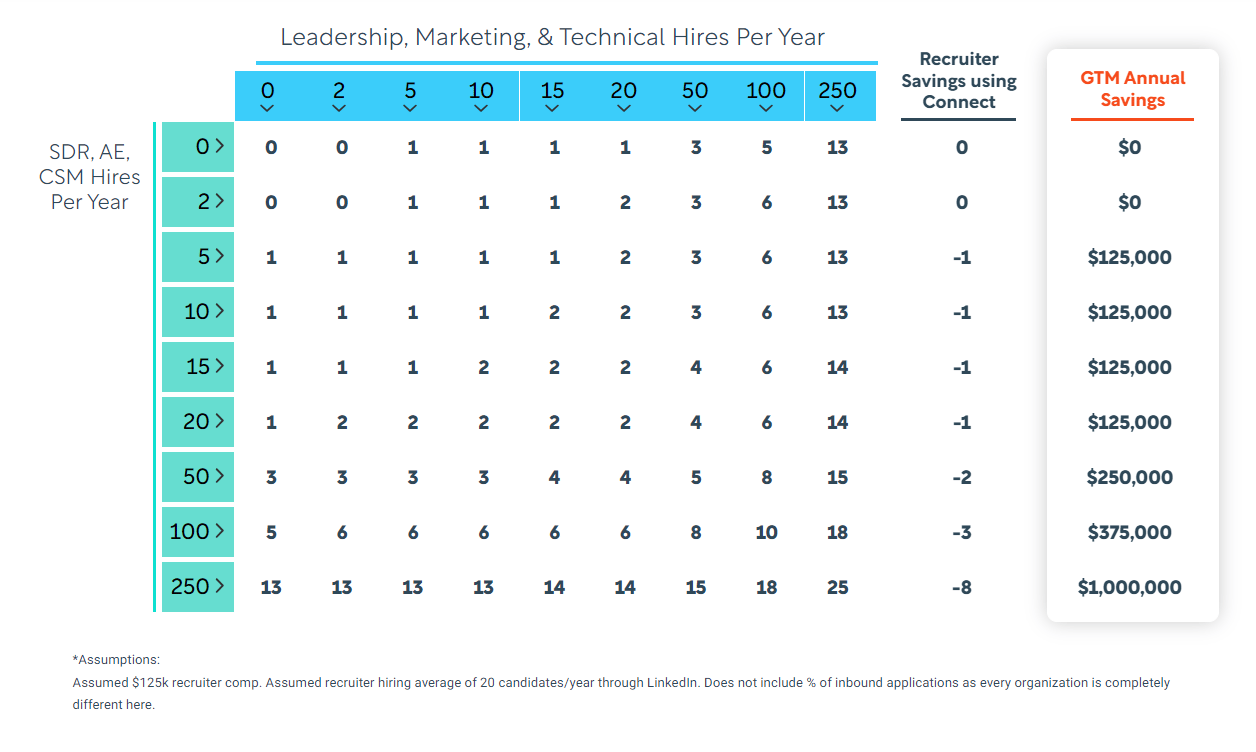 Matching scale to ROI when building your team can be tough, but Betts Recruiting and our Connect platform can make things easier, as well as save you a significant amount of money that could be spent on better investments. Our clients have been able to achieve this and more by using our solution to search through the Betts network of over 2,000,000 candidates and finding those that fit their needs best. See Connect in action for yourself and discover how to empower your talent acquisition team with optimized scalability.
To learn more about Betts Connect and see it in action for yourself, sign up for a demo.
Recruitment Scalability with Betts Connect
Continue to the next part in the Scale Series:
Part 3: Executive Compensation Guide
Zendesk is a SaaS solution provider delivering a CRM and customer service platform for businesses of all sizes. Founded in 2007, by 2022 they needed to scale their sales recruitment significantly by adding new Account Executives and SDRs to their team. They expected to fall short of these goals by half before the year was done due to the inefficiency of the talent acquisition technology available (e.g., LinkedIn Recruiter). In other words, they illustrated almost exactly the type of scenario we've outlined above here.
With the Connect recruiting platform, Zendesk consolidated the hiring time and costs they had gotten used to with LinkedIn, improved the quality of candidates and achieved several other milestones:
Averaged 1 hour spent per hire
Hired 8 candidates in one month
Reached 40% of hiring goals in 7 months
Increased interview rate to 40%

On track to meet 100% of sales recruitment goals before EOY
More important than the immediate performance increase in talent acquisition, however, is the impact on ROI these improvements brought. Zendesk was able to hire one AE within 45 days that generated $1.5 million for their sales pipeline. The additional savings and cost factors (hiring, compensation, commission, etc.) outlined here and in Part 1 of our Scale Guide, reflect a considerable net revenue gain per candidate.
Here are a few case studies of Betts Recruiting clients who have managed to scale their talent acquisition to match their needs:
Recruiting Made Scalable: Case Studies
If you've watched more than one YouTube video at a time, you've probably seen the name Grammarly already. As a fast-growing digital writing tool provider, the scalability of their talent acquisition process was a serious concern when they needed to expand into North America but found the solutions available incredibly inefficient. Migrating from LinkedIn to Betts Connect, they saw vast improvements over their process:
Reduced average time to hire by 65%
Increased candidate response rates from 9% to 100%
Moved over 50% of screened candidates to interview stage
Reduced average interview time by 30 minutes
Hired qualified candidates within 16 days

Grammarly's talent acquisition team leveraged the Connect recruiting platform to drill-down deeper into the candidate pool and narrow down their ideal fit for the positions they needed. Even when filtering for specific and even more esoteric requirements, they were able to track down candidates that matched what they envisioned for the role, seamlessly.
Cloudflare is a web security and content delivery network that plays a very important role in the very backbone of the modern Internet (without them, you may not be reading this right now…). Going up against established tech giants like Amazon and Microsoft, scaling up their team was a primary objective, but the bigger priority was finding the right candidates from different backgrounds. With Connect, Cloudflare:
Cut down time spent on sourcing candidates by a factor of 20
Got 5X more candidates past first round screening than with LinkedIn
Hired 9 candidates with the right technical and diverse backgrounds needed

What Cloudflare found with the Betts Connect recruiting platform is that it was easier – and overall more likely – to discover candidates who were actually engaged and would make it through more interview rounds than with LinkedIn. This enabled them to meet their talent acquisition scope not only more quickly, but efficiently as they previously relied on using LinkedIn In-Mail to contact about 2500 potential candidates just to interview one.